Patt's Copy World, Copy Store Sonoma CA
About Patt's Copy World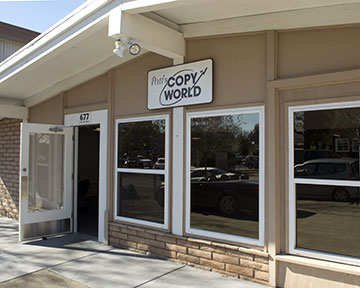 Whether you're in need of a single perfect print of your favorite travel photograph or a thousand fliers for a music event that you're organizing, we can deliver. Just let us know what your needs are and what your budget is, and we'll do the rest. Call us at 707-939-7288 to find out more about the services we offer. We look forward to helping you get your projects done.
We're your go-to place for quality printing services in California. From passport photos to business signs, we do it all. We work with a wide variety of materials to produce the excellent images you're after in whatever sizes you need them. Our expert technicians are capable of putting the finishing touch on any graphics you have produced, whether you need them for professional purposes or purely for your own pleasure.
We use the most advanced printing technologies in the industry today, so you can count on quality when you use our services. We are passionate about rich colors, sharp detail and everything else that makes an image great.
Printing Company
We like to think of ourselves as the artists' technology team. Printing gets more and more complex by the decade, and it can be a challenge to keep up with all these changes. Nevertheless, artists and designers are often expected to make use of the latest technology. That's where we can help.
Copy Center
We want to make things as convenient for you as they can be. Our all-purpose copy center in Sonoma can give you the resources you need at the time you need them. For small batches, we are often able to make copies while you wait. For large orders, we will give you an estimate of the time required to get them completed and you can pick up the orders at your convenience.
Printing Services
If you need a large number of posters to advertise an upcoming event, we'll be happy to fill your order. Our custom poster printing services in Sonoma are more than sufficient to meet even the most complex of advertising requirements. We'll be happy to work within your budget to ensure that you get the biggest publicity bang for your buck.